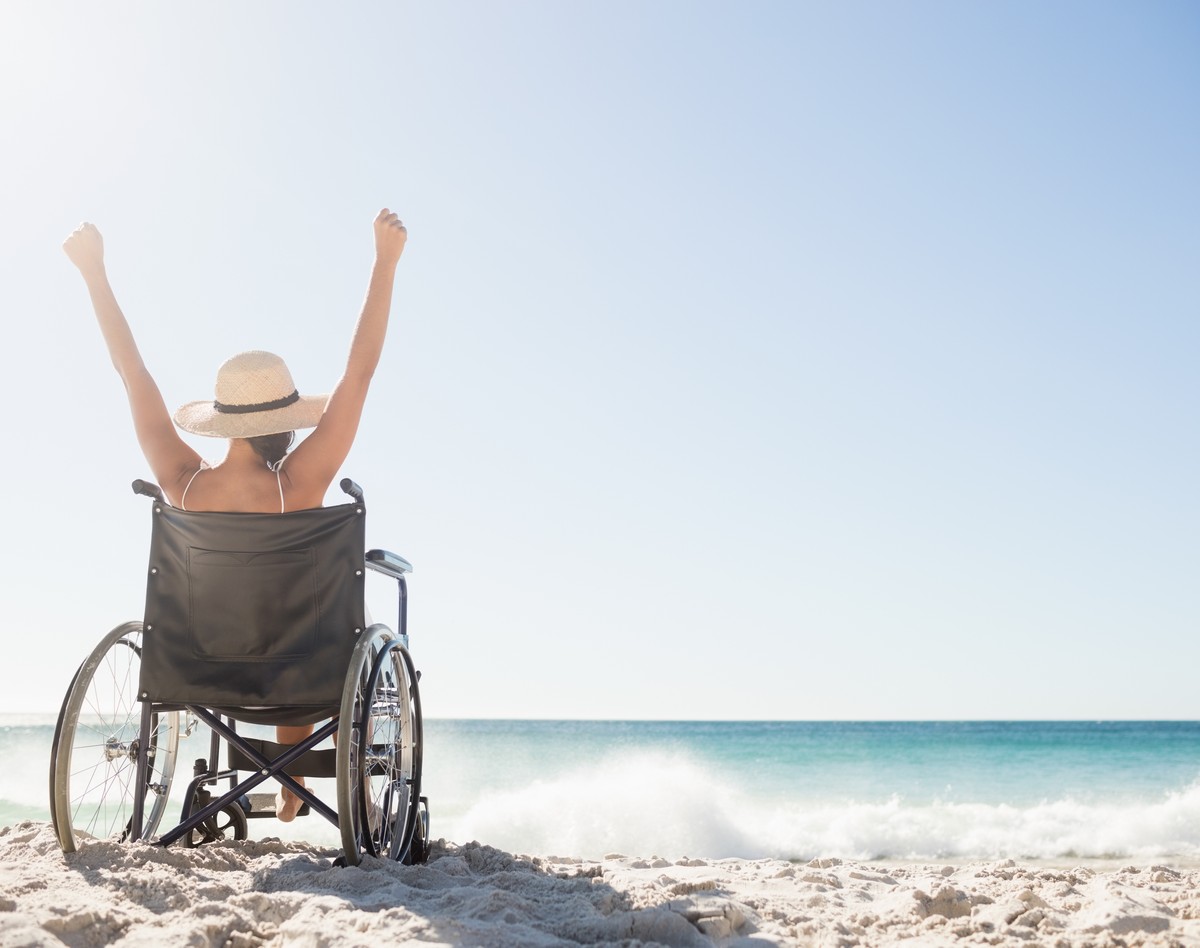 Sydney is Australia's best-known city and one of its top tourist destinations. Well known for its amazing natural beauty, Sydney offers many attractions, including climbing the Sydney Harbour Bridge, swimming in Sydney's stunning beaches, admiring the Sydney Opera House or strolling through the Royal Botanical Gardens. The seductive combination of land and sea makes it a picturesque wonder, enjoyable to both locals and tourists.
Perhaps one of the things that Sydney prides itself most on is accessibility. Whether you are seeking adventure or you wish to soak up the culture, there are plenty of accessibility friendly things to do in Sydney and GTK has the best equipment for it. Here are some of our favourite places to visit, and our top choice for wheelchairs and accessories to ensure a comfortable adventure:
Bondi Beach
Known as Sydney's most famous beach, Bondi Beach definitely lives up to its reputation with its white sands and turquoise waters. It is also Sydney's only accessible beach with two beach wheelchairs available for booking, lockers for wheelchair storage, as well as accessible parking.
Best wheelchair for Bondi Beach is The Hippocampe
This is a beach wheelchair that allows a user to actually get into the water while in the chair! The Hippocampe provides the utmost flexibility in a wide range of locations, including hiking trails, the beach, pools, and snow, thanks to a number of add-on accessories. It has wheels for sand that are double the width of regular wheels, and best of all, the chair can float with optional balloon tyres.
Best wheelchair accessory for Bondi Beach is The Freedom Trax
You can put this device onto any manual wheelchair and instantly you'll be able to travel across the beautiful white sands at Bondi. Access, range, and manoeuvrability were all designed into the Freedom Trax and it has an 8-kilometer range, is weather resistant and sturdy. It's also small enough to fit in a car.
Royal Botanical Gardens
Aside from taking in mesmerising views of rare and beautiful plants, The Royal Botanical Gardens is a great space to sit down for a picnic lunch, enjoy a piece of floral dessert at the Botanic Gardens Restaurant, or learn more about the gardens/horticulture. An access map is also available, displaying accessibility-friendly pathways around the park. Entering through the Queen Elizabeth II gate is best for those who wish to remain on flat ground, as some of the areas in the gardens are steep.
Best wheelchair for Royal Botanical Gardens is the TopEnd Handcycle
The TopEnd Excelerator Handcycle is fast, manoeuvrable, and easy to get on and off. It has a top speed of 24 kilometres per hour. You can alter the position of the seat via a sliding mechanism ensures a precise fit every time, it can also be reversed, and it has a maximum capacity of 159kg. The TopEnd Force 3 Handcycle has 27 speeds, high-performance wheels and Shimano components. It is ideal for beginners and advanced handcyclers and has an adjustable back angle as well as footrests for added comfort. The weight capacity is 113kg. Both of these are perfect for a great day of exploring in the Royal Botanical Gardens.
And if you're taking a child with you who needs assistance, a fantastic option for exploring the Botanical Gardens is the Rifton Tricycle, which is ideal for those who want to go for a bike ride, but need added postural support.
The Sydney Opera House
The Sydney Opera House is a multi-venue performing arts centre with the most iconic Australian image. It runs accessible tours and offers Auslan interpreting. There are also workshops and performances, such as audio-described tours, created for individuals with a disability.
The Opera Bar
Located just beneath the Sydney Opera House, the Opera Bar is a great spot to enjoy a meal, while taking in the breathtaking views of Sydney Harbour. As a bonus, it has a spacious wheelchair accessible bathroom.
Best wheelchair for Sydney Opera House and The Opera Bar is Magic Mobility Frontier V4 Hybrid
The Magic Mobility Frontier V4 Hybrid is a front-wheel drive power wheelchair that has 14-inch driving wheels and 73-amp-hour batteries – so it has excellent battery range and outdoor capability. It's possible to turn this chair into an all-terrain model by swapping out the wheels and tyres.
Taronga Zoo Sydney
Taronga Zoo Sydney is home to over 4,000 animals of 350 species. Although it is situated on a very large hill, cable car rides are available to accommodate individuals using wheelchairs. The zoo also has accessible parking at the top entrance, manual wheelchairs available for hire, and companion cards.
Best wheelchair accessory for Taronga Zoo is Power Assisted Devices
Power assist devices, such as the Smartdrive, E-motion wheels, Quickie iXpress, can help when having a big day out at Taronga Zoo. If pushing a manual wheelchair is too tiring, these devices are ideal. They are either used by someone self-propelling like the Smartdrive or E-Motion, or they allow someone to 'drive' the wheelchair without having to push, like the Quickie iXpress. If you're heading to the zoo to explore, you're going to want one of these to ease the pressure and make for a more comfortable day out.
The Blue Mountains
The Blue Mountains are a mountainous region and a mountain range, bordering Sydney's metropolitan area. Rising above the altitude, individuals can experience fresh air and spectacular views of Sydney's natural wonders. For those who wish to enjoy an overnight stay, there are plenty of wheelchair accessible accommodations that ooze warmth and charm.
Best wheelchair for The Blue Mountains is The Magic Mobility Extreme X8
Like a mini 4x4, the Magic Mobility Extreme X8 has a top speed of 10 kilometres per hour and is built to withstand rough terrain. The 14" low-pressure tyres and articulated frame technology keeps the driving wheels on the ground, in all kinds of terrain, including sand, snow, rocks, and more. The Extreme X8 is the ideal vehicle for everyone who enjoys exploring the great outdoors, which is why we recommend it for the Blue Mountains.
Carriageworks
Carriageworks is a contemporary art and performance institute located in Sydney. Its large-scale theatre, dance, and art installations allow individuals to enjoy all kinds of performances and productions. All of the available spaces are wheelchair accessible, options for companion cards and accessible seating areas are flexible, and accessible parking is available via the Carriageworks Way entry.
Best wheelchair for Carriageworks is the Magic Mobility 360 Power Wheelchair
The Magic Mobility 360 is the perfect chair for active users, from children to professionals and active outdoor adventurers. It is a great option for the Carriageworks because it has a compact body between 610-660mm wide, and single sided forks and reduced base width which allows the chair to manoeuvre easily indoors.
Escaping city life and exploring the great outdoors
From scenic walking trails and coastal lookouts to attractive beaches and campgrounds, NSW national parks offer plenty of disability-friendly things to do in Sydney. Accessibility-friendly parks in Sydney (NSW), such as Nielsen Park and Sea Acres National Park, allow individuals with a disability to immerse themselves in the invigorating energy of nature's playground. And with the right chair and accessories, based on those mentioned above, you can ensure a great day out.
Whether you wish to enjoy fine dining with a view, kayaking, bird watching or a day by the beach, NSW national parks have been designed to be accessible to as many users as possible, thereby allowing you to participate more actively in various activities and events. If you're looking to take a break and come home to a freshly cleaned home, you can seek assistance from an NDIS experienced cleaner.
For all disability-friendly national parks in NSW please visit National Parks NSW.