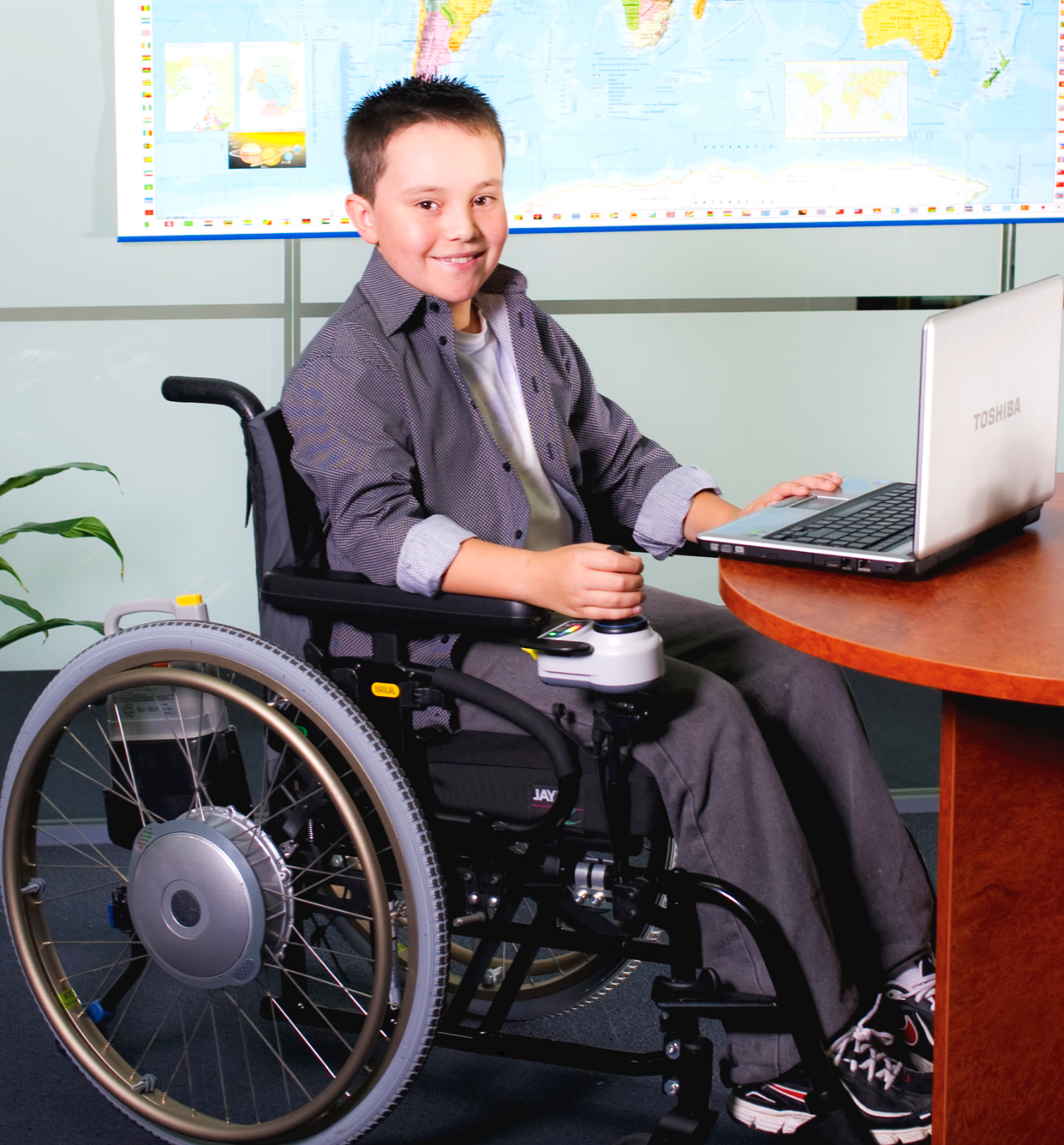 We've previously looked at the different types of power assist devices, as well as the clinical evidence regarding their use. We are often also asked how to choose between a manual wheelchair with a power assist device and a power wheelchair, especially when considering a power assist device with joystick control like the Alber E-Fix or Quickie iXpress.
About power assist device
At first glance, a manual wheelchair with a joystick operated power assist device appears to offer similar functionality to a power wheelchair, but with some extra benefits. Like a power wheelchair, as only hand control is needed to operate the joystick, users with limited movement can use one successfully. Although a power assist device is usually quite heavy in weight, it can be removed from the manual wheelchair to allow the wheelchair and power assist to be transferred in a standard vehicle rather than needing a wheelchair accessible vehicle as you do with a power wheelchair. The operating range of a joystick operated power assist device and a power wheelchair can also be similar, meaning you can generally travel the same distance before needing to charge the batteries.
Benefits of power wheelch

air

However, there are benefits that a power wheelchair offers over a power assist device. A power wheelchair usually comes with some form of suspension, and wheelchair suspension has developed quite rapidly over the last decade. In comparison to a manual wheelchair, which usually has little or no suspension, the ride quality that a power wheelchair offers is much better than a manual wheelchair with a power assist device. This makes using the wheelchair in the community much more comfortable, especially for users where jolts and bumps can cause pain to flare up. Power wheelchairs are also generally more robust, as their components can be stronger and heavier to withstand more forces when driving or when knocked.

A power wheelchair offers the possibility of power seat functions, allowing the user to independently tilt, recline, use seat elevation or elevate their legs through the joystick. The programming possibilities of a power wheelchair are also much more advanced, where driving parameters like speed, acceleration, deceleration, throw and how the joystick responds to tremors or unintentional movement can be fine tuned to suit each individual. Most wheelchair operated power assist devices allow for some basic programming in terms of speed and acceleration, but the ability to adjust the programming to suit an individual is much greater on a power wheelchair.

Both power assist devices and power wheelchairs offer many benefits, and your GTK Consultant can help determine what might best suit your needs. Contact us today to see how we can help.