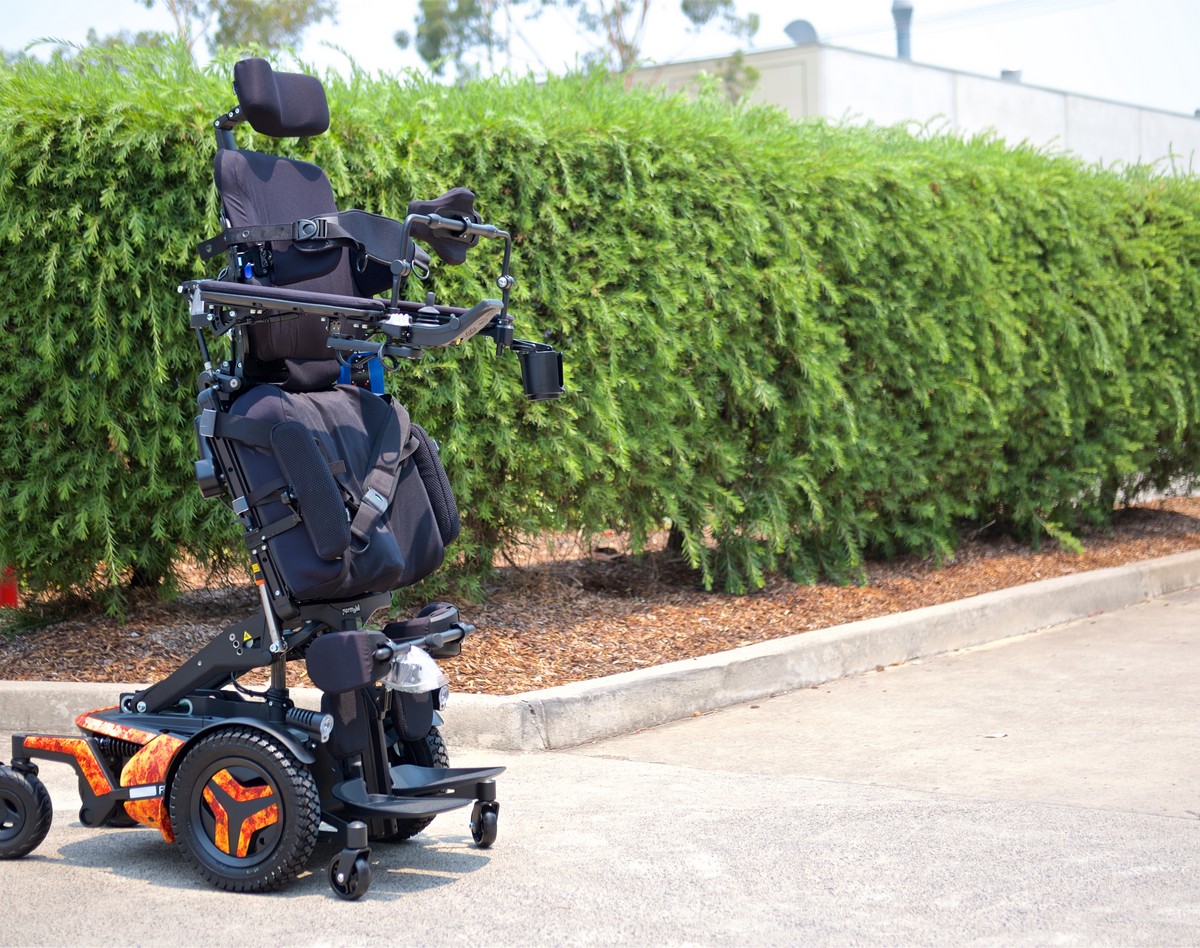 It is not unusual to see news articles reporting on how sitting too much is detrimental to our health, and standing desks are becoming more popular in many office environments. We're slowly understanding the impact of standing on our health for everyone, including wheelchair users. For wheelchair users, a standing wheelchair may be an appropriate method to obtain the benefits of standing.
There are many varied benefits of using a standing wheelchair, including:
Increased quality of life by allowing a person to be at the same level as their peers to facilitate better social interactions. From being able to order a drink at a tall bar, see over the crowd at a football match, and have a conversation eye-to-eye with a loved one, most standing wheelchair users cite the increase to their quality of life as the greatest benefit from their wheelchair1.
Increased ability in functional reach, by positioning the individual at a taller height and allowing increased reach with the upper limbs to access items around the home and community1.
Improved bone density, as standing and weight bearing can help maintain bone density where bone density loss often occurs during inactivity or prolonged seating1.3,8.
Improved skin integrity through allowing the individual to reposition, reducing the pressure placed on bony prominences that are often loaded when seated, such as the ischial tuberosities and sacrum, and allowing oxygenated blood to these areas1,5. Studies have found that standing can reduce the pressures on the seated area by up to 40%5.
Improved respiration by allowing the diaphragm to fully expand and contract. When seated, the diaphragm has less space to expand into and lung capacity is reduced. Standing can promote more effective breathing due to the diaphragm having more space1.
Improved digestion, bowel function2 and physiological processes. When seated, many of the internal structures and organs are compressed, making every day physiological processes less efficient. When standing, the organs are not compressed, and gravity assists with internal physiological processes1.
Increase in circulation, as movement assists blood to flow through the body. When seated, the circulation in the lower limbs is decreased, resulting in reduced circulation to the feet. Standing can promote improved blood flow throughout the body1.
Improved bladder function, as being seated all day can result in the bladder not fully emptying which can lead to urinary tract infections and leakage7. Standing can improve the bladder's ability to empty fully.
Decreased muscle contractures by allowing passive movement of the hips, knees and trunk. Sitting in the same position every day can result muscles shortening of lengthening to adapt to that posture, while standing moves those muscles and assists to prevent contractures1,2,4, 6, 7.
There are some contraindications for standing, including orthostatic intolerance, impaired skeletal structure that may not tolerate standing, osteoporosis, osteogenesis imperfecta or hip and knee flexion contractures greater than 20°1. If there any are concerns about an individual's capacity to stand and weight bear, it's imperative to seek medical advice before proceeding with trialing a standing wheelchair1.
The experts at GTK can help determine whether a standing wheelchair is the right option for you or your client. Contact us today to find out how we can help.
References
Dicianno, B.E., Morgan, A., Lieberman, J. & Rosen, L. (2013). RESNA position on the application of wheelchair standing devices: 2013 current state of the literature. Retrieved from https://www.resna.org/Portals/0/Documents/Position%20Papers/RESNAStandingPositionPaper_Dec2013.pdf
Shields, R.K. & Dudley-Javoroski, S. (2005). Monitoring standing wheelchair use after spinal cord injury: A case study. Disability and Rehabilitation, 27(3), 142-146.
Goktepe, A.S., Tugcu, I., Yilmaz, B., Alaca, R. & Gunduz, S. (2008). Does standing protect bone density in patients with chronic spinal cord injury. The Journal of Spinal Cord Medicine, 31(2), 197-201.
Baker, K., Cassidy, E., & Rone-Adams, S. (2007). Therapeutic standing for people with multiple sclerosis. International Journal of Therapy and Rehabilitation, 14(3), 104-109.
Sprigle, S., Maurer, C. & Sorenblum, S.E. (2010). Load distribution in variable position wheelchairs in people with spinal cord injury. Journal of Spinal Cord Medicine, 33(1), 58-64.
Gibson, Susan K.A, Sprod, Judy A.B., Maher, Carol A.C. (2009) The use of standing frames for contracture management for nonmobile children with cerebral palsy. International Journal of Rehabilitation Research, 32(4), 316-323.
Walter, S.J, Sola, G.P., Sacks, J. Lucero, Y. Langbein, E. & Weaver, F. (1999). Indications for a home standing program for individuals with spinal cord injury. International Journal of Rehabilitation Research, 32(4), 316-323.
Glickman, L.B., Geigle, P.R. & Paleg, G.S. (2010). A systematic review of supported standing programs. Journal of Paediatric Rehabilitation Medicine, 3(3), 197-213.