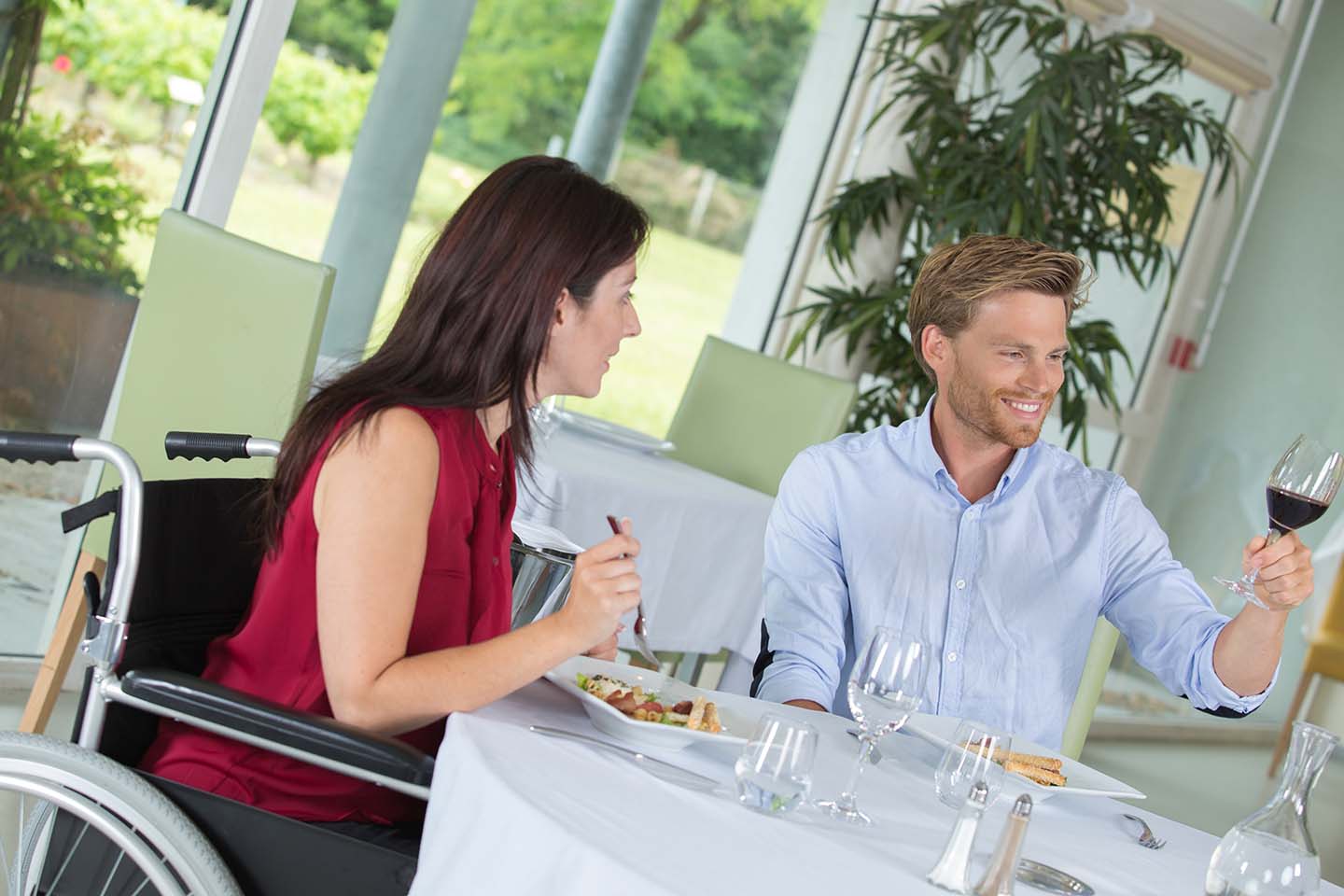 Dining out at a restaurant is a treat and who doesn't want to spend that time eating delicious food, talking with friends and family, and not having to deal with cooking or cleaning up afterwards!?
Unfortunately, for many Australians, the idea of going out to dinner at a restaurant causes more stress than it should. Is the restaurant going to have enough space for their wheelchair? Will they be able to take their guide dog? Can they take their mobility scooter right up to the door?
As a restaurant owner, you want to make sure your business is open to everyone, and that means ensuring you have a restaurant that is accessible.
What Is Expected?
There are a few factors that must be considered when creating an accessible restaurant. These include the following:
The entry must be accessible. Restaurants must ensure there are parking spaces close to the front of the building, and that these spaces have plenty of room for wheelchair ramps to be fitted to the side and back of vehicles. It must also include a slight slope and safety rails, and you must remove any bushes or trees that might cause an obstruction.
At the entrance, the doors need to be at least 850mm wide so that wheelchairs and mobility scooters can enter. You should have clear signage and directions where necessary, and all of these signs should also be written in braille.
Seating must be accessible. If you have counters, they should be lower, without any display items, and any steps should be marked with vibrant colours. If the restaurant has a bar, ensure there is accessible seating space as well – this includes a table that must be at least 800mm wide and at least 750mm high.
Walkways need to be wide enough. If there is an aisle or walkway, it should be wide enough to fit two wheelchairs, side by side. If the aisle has seating on either side, ensure that seating can be moved, if necessary, to allow space for mobility scooters and wheelchairs to move around freely.
Bathrooms should also be easily accessible by everyone. All restaurants should have a disability friendly toilet and washroom. It needs to include handrails, low sinks, and you should include braille and raised lettering so the bathroom is easily distinguishable.
Tips To Enhance Your Accessibility
Aside from the factors mentioned above, there are a number of things you can do to ensure your restaurant is open to people of all abilities. The following tips will help you to embrace people from all walks of life, and encourage them to dine at your restaurant.
Advertise the fact that you are disability friendly, and wheelchair accessible – do this within your restaurant, on your signage, and also on any marketing material / menus

Ensure your staff are trained to deal with people from all backgrounds, and ensure they are friendly and warm to all guests

Make the booking system accessible and easy to manage, whether this is done via website, email or telephone – offer a range of options

Use easy to read, large print on your signs and menus to cater to people who are living with disabilities and eyesight impairment

Open your doors to assistance animals – include water bowls for them and ensure your customers know their assistance pets are welcome

Always check on your customers – ensure that they are happy with their meals and check if they need any assistance finding bathrooms, reading the menu, and so on
Finally, just ensure you are clear about your restaurant's accessibility so customers are well aware of your policies and procedures before the dine with you.
Read our full guide to accessibility & download our checklist