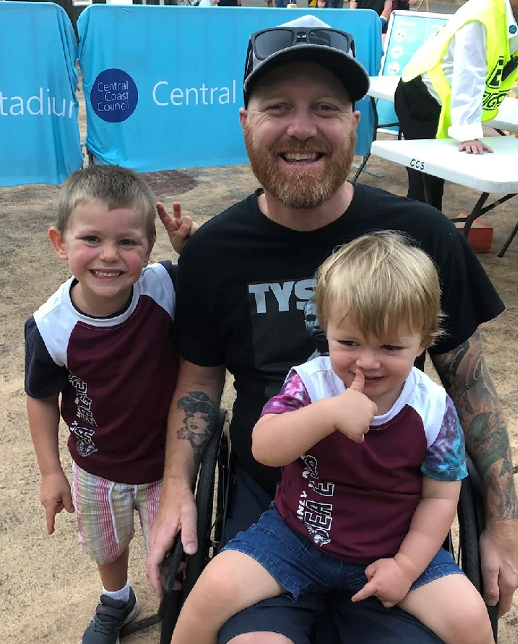 GTK are pleased to announce we are starting a new 4 part series "Dad Life (As A Wheely)" written by our newest consultant, Curtis! The series will highlight Curtis' experiences living as an active dad in a wheelchair.
Each Wednesday we will release a new part to the series so make sure to keep an eye out for updates!
Dad Life (As A Wheely) Part 1
I'm Curtis. I've been using a wheelchair since I was fifteen, which will make it twenty-nine years this year. I have recently started a role as an AT Consultant with GTK, who are launching in Melbourne in the very near future. Firstly, I wanted to introduce myself and give you an insight into the person you will hopefully be consulting with soon.
I have a five-year-old and a two-and-a-half-year-old. Being a C6/7 quad, I feel blessed to have children, but I'll be honest with you, it sure is tiring, difficult and testing to be a dad who uses a wheelchair. I've trained at the highest levels to be successful at four Paralympic Games and I tell ya having kids is up there with the most rewarding yet challenging things I've done. It takes a lot of 'out of the box' strategizing and a solutions-based mindset to get through the day, especially if you want to be an active participant in your kid's life. I love it.
And it's not just the physical side of things. Sure, being a quad poses its challenges when it comes to balance and hand function but it's also the mental side of things that take a lot of adjusting to. I've had to relinquish much of the care of my kids over to their wonderful mum purely because I'm simply unable to do lots of things, no matter how hard I try.
I'd say that we make a good team and have figured out that where I am not helpful in one area, I make up for it by being a champion in other areas.
Now, this is where things get interesting. In my twenty-nine years as a wheely I've encountered considerable situations where offence could've been taken in the name of curiosity. Some people have little shame in barreling up to you wanting to know your life story or treat you like you are literally stupid. Luckily, I'm not the type of person who gets offended when people are curious about my situation. It can be tough but sometimes it's best to park those judgements. There is no better place to put those sensitivities to the test than rolling up to childcare at pick up time to the raucous and unabashed enquiries 2–5-year-old's subject you to upon entering the premises.
"whoa, WHY ARE YOU USING THAT THING!!!"
"YOU'RE IN A WHEELCHAIR!!!"
It's funny at times. They get the answer they need then trot off again to play in the sand…no judgement, just curious.
Along with many ways I have had to adapt to Dad life, my boys have also adapted to having a dad who is a bit different to regular dad's. That comes through in the way they explain to their friends that life is a bit different, the way they have had to figure how to climb up onto my lap rather than being picked up, different ways we play together or simply cuddling me. It's quite impressive how they learn.
They also adapt socially. My eldest son knows the story so he will be very open in telling his friends that I can't walk. It's not the regular experience but we have created a beautiful connection.
In wrapping up Part 1 of this article I wanted to say that, practically, I have been very conscious in coming up with assistive technology solutions, funded by the NDIS, to make the physical side of things easier for me to be a contributing factor in the parenting stakes. I have never wanted to sit on the sidelines while my wife gets to do all the fun stuff, but I also want to be able to contribute to the not-so-fun stuff, like cleaning up. Effective AT makes these types of things possible. And this is what attracted me to working for GTK. The variety of top line products they offer along with their servicing prowess and customer focused approach makes them a leader in the industry. All of which I will chat about in Part 2, next week along with how AT has changed my world